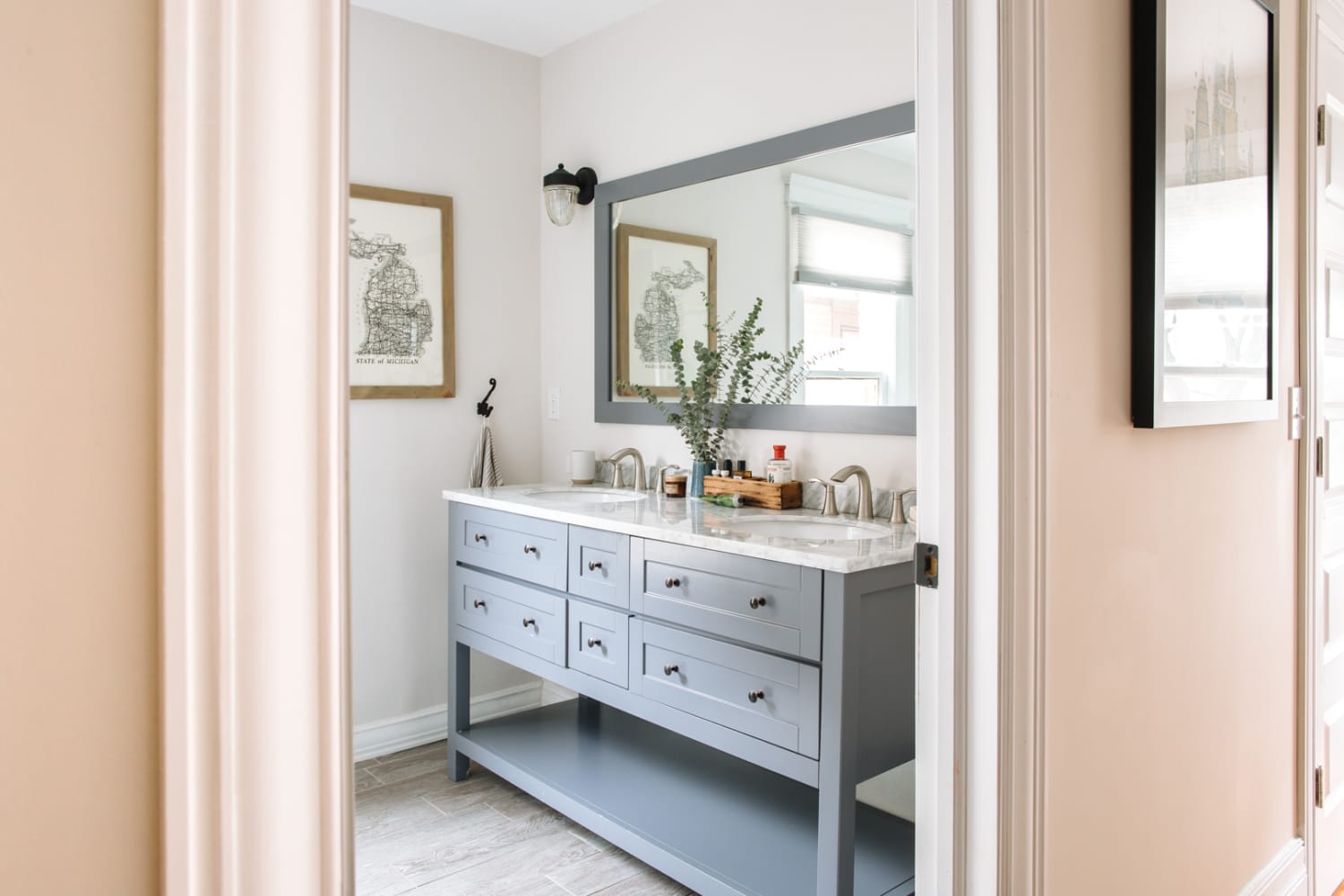 We independently select these products—if you buy from one of our links, we may earn a commission.
Around mid-March, when people were making frenzied runs on toilet paper, hand soap, and basically every other disinfecting product on the planet, I bought a $36 bottle of soap. It wasn't a markup price, or the result of some shady dealing on a highly-coveted home good. It was simply really, really nice soap. (Oribe hand wash, to be exact.) Every time I used it, the scent perfumed my tiny bathroom and reminded me of its price.
Washing my hands, which was and still is a basic necessity, was suddenly elevated to something nicer. I felt like a guest in my own bathroom. And while my bank account will not allow me to splurge on a daily product like that regularly, I am here to tell you: Go ahead. Break out the soap you save for guests. Use it yourself.
A near cousin of the tiny, decorative soaps that function as bathroom decor as much as they do soap, guest soap is the kind of soap you'd pull out if, say, Chris Evans were popping by and you wanted your bathroom to impress him. Guest soap is the sanitary equivalent of letting people sit in the formal living room, rather than the den. "A great-smelling, beautifully packaged hand soap is one of those little details that goes a long way with guests," one writer wrote for Glamour in 2017. "Your apartment may be furnished entirely in IKEA and Craigslist finds, and if you have a bottle of that by your sink, people will walk away at least a little impressed."
Guest soap needn't be Aesop-levels of expensive. When my bottle of Oribe dried up, I stocked up on a few bottles of a now-discontinued hand wash from Swedish brand & Other Stories and decanted them to a reusable glass dispenser. A particular scent of a Bath & Body Works hand soap could be considered a guest soap if it feels fancy enough to you. The point is that a guest soap feels like a special occasion soap—it's a mindset, rather than a price tag.
Now that few of us are doing any sort of hosting for the foreseeable future, that fancy soap is probably getting dusty in your bathroom cabinet, wondering when it will be used next. To that I say, why not break it out and use it yourself? Are you not special, too? What if you could use your special occasion soap and turn that day into a special occasion itself?
Indulging in a little moment of luxury like a fluffy bathrobe or a fragrant hand soap will not solve either the pandemic or any of the vast inequities that were exacerbated by its onset. But as research published in the International Journal of Education in 2015 pointed out, our environments can directly impact our mental health. If hand soap serves as a cherry on top of that DIY project, why not lean in to that impulse?
The only thing stopping you from using the guest soap, I'm assuming, is the fact that you don't have any guests right now. And given that none of us know what winter will bring, now is the time to double down on the rituals that help us feel grounded, as well as any little luxuries that help turn even a bland day around. Maybe it's a deceptively affordable candle, champagne-flavored gummy bears—or heck, real champagne, just because! For me, it will be hand soap… and maybe a luxurious hand cream to go with it.
For the holy grail of fancy hand soap:
For hand soap with built-in gift wrapping:
For a bottle of hand soap (or four!) with pretty, tile-inspired packaging:
For the "fashion girl" version of hand soap:
For a seasonally grown-up version of that mall staple, Warm Vanilla Sugar:
And if you already have a bottle you'd like to reuse, try an eco-friendly refill pouch: