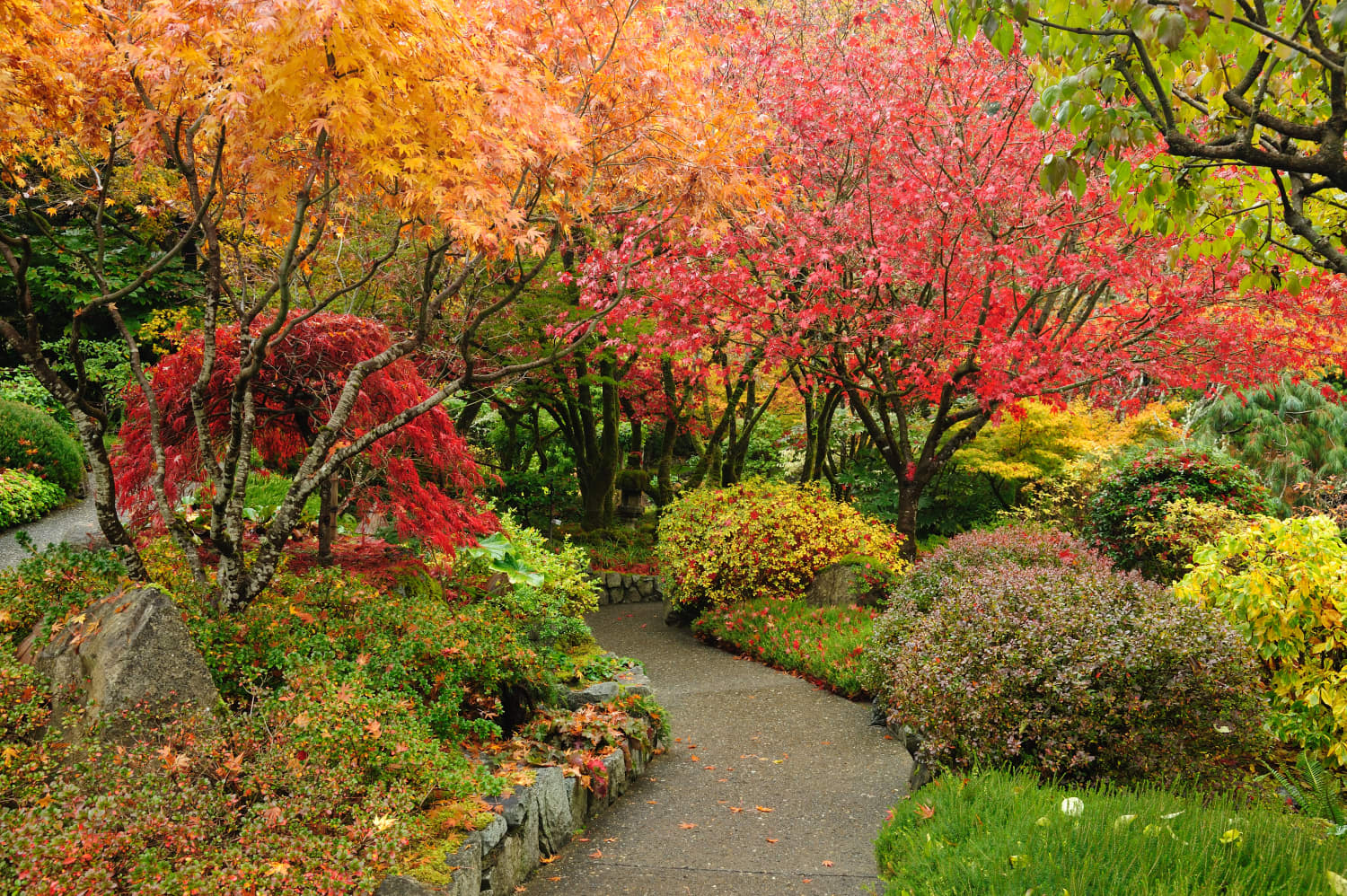 Fall is here. Summer has blown by and deposited us in a pile of swirling fall leaves. Not that I'm complaining over here, because I love sweater weather. The second I saw I leaf fall in my backyard, I started dragging out my scarves, boots, and Halloween decorations. The chilly month of October is a relief from the sweltering summer months, especially for a gardener who is used to sweating it out under the hot sun.
One great part about fall is that even in the cool weather, it's not quite time to hang up your spades and hoes just yet. Depending on your agricultural zone, there's probably time to plant before the first hard frost. Go throw on your favorite old sweater, get out there and get some dirt under your nails. There's plenty of things to plant in October.
Truth be told, garlic is one of the easiest plants to get in the ground and yield a large crop. It's also one of the most useful veggies you can grow, so there's very little to go wrong here. Did you know that garlic is in the allium family? Yep! This tasty plant is directly related to those big, ball-like purple ornamentals flowers—and actually, the word allium is Latin for garlic. Onions, shallots, leeks and chives are also in this family.
In October, pick a sunny spot in your garden that has well-draining soil. Plant your plants with the root side down, roughly 5 inches apart. If you decide to plant more than one row, make sure your rows are at least 2 feet apart.
Cover your garlic with a few inches of soil and then at least 5 inches of mulch if you live in a northern climate. Depending on your zone, you could see growth emerge in the late fall or early spring months. If you don't want to make room in your garden, you can also grow garlic indoors.
These darling flowers are one of the first blooms to emerge from the cold ground at the end of winter. Often, you'll find their colorful petals peaking through the remaining snow of March.
The snow crocus has thin leaves and only reaches 4 inches tall. These plants produce the most adorable blooms that make them perfect for the smaller, empty spots in your garden. 
Before you get started, make sure you have your hands on the snow (or spring) blooming crocus corms (bulbs). There are other varieties of crocus that bloom in the summer and fall.
Pick a well-draining garden spot that gets a lot of sun. Plant the bulbs 3 inches deep and 3 inches apart. Aesthetically, crocuses look their best when planted in groupings. 
This planting method works best in zones 3 through 8. If you live in a warmer climate, keep your bulbs chilled until the late winter months when you can put them in the ground.
If you end up with a few extra bulbs, try forcing the bulbs indoors during the winter. It's a great way to keep yourself busy when your garden is hibernating. 
If you're looking for a tried-and-true standby that produces gorgeous early-summer blooms, the iris is for you. You're probably familiar with the popular bearded iris (Iris germanica), but there are over 300 other varieties out there to choose from in all shapes and sizes. 
In early October, once temperatures maintain 50 degrees or so overnight, plant your irises of choice.
Irises perform best in a full-sun environment and well-draining soil. If they're planted in soil that doesn't drain and is constantly wet, the rhizomes will rot.
Iris rhizomes need to be planted in wide, shallow holes. The typical hole size should be roughly 10 inches wide by 4 inches deep. It's very easy to plant iris rhizomes too deep, so be mindful as you dig.
Once you have your hole, place the rhizome root side down. Fill in around the plant, leaving a small part of the rhizome and foliage uncovered. New growth will begin to emerge in the spring.
Daffodil blooms are a trademark of spring. When these babies start to pop out of the ground, it's a solid sign that winter is over. While the most common variety is the big, yellow Dutch Master, there are hundreds of others to choose from, from common to heirloom.  
When picking a place to plant your bulbs, choose a spot in your garden that drains water well and gets full sun. (Are you seeing a trend here? Wet bulbs, corms and rhizomes will rot quickly.)
Full sun will help the bulbs kick start their energy stores to begin growing when spring comes. For the most impact, plant daffodils in clusters. These also look great when planted among crocuses and tulips.
While there are a die-hard set of folks that will always plant trees and shrubs in the spring, it should be known that it's a solid choice to plant them in October. The cooler temperatures are easier on the plants, giving them the chance to establish a solid root system without stressing under hot temps after being planted in the late spring.
The cooler temperatures also stop growth from the top of the plant, which allows it to push its energy into its root system.
Trees and shrubs will also benefit from the extra moisture from October precipitation. Yes, you'll still have to water newly planted trees, but the water won't wick away like it does in the heat.
If you're a newbie to the world of trees and shrubs, do yourself a favor and plant them in the fall. One other benefit? You'll be able to score some sweet deals on shrubs at your local nursery right about now.