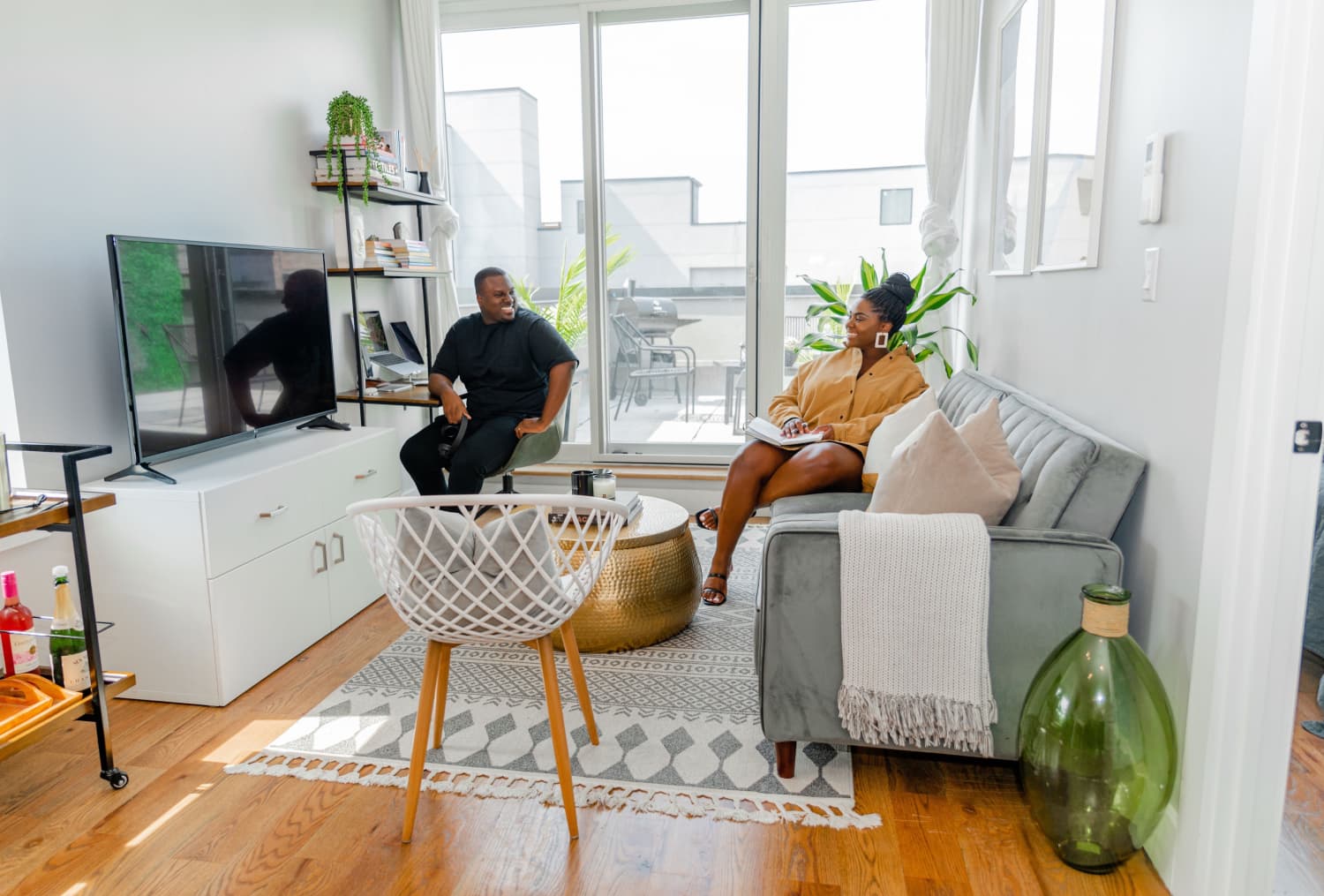 We independently select these products—if you buy from one of our links, we may earn a commission.
Name: Oyin Antwi, and husband Jeffery Antwi
Location: Brooklyn — New York City, New York
Size: 550 square feet
Years lived in: 8 months, renting
I've lived in many major cities through my life (Lagos to London to DC/MD to NYC) but the majority of my adulthood from 21 to 29 years old was spent alone in Brooklyn brownstone studios (one AT previously featured here), so this would be the first time as an adult that I would be looking for an apartment to live with someone, thankfully my husband! With a plan to leave NYC in the next two years, we were keen on finding an apartment that reflected a bit of both of our styles and one that felt like the "big finale." We went for a viewing and a real estate agent overheard me say we wanted the best "last hoorah" apartment within our budget, and told us he had a mini "penthouse" surprise unit for us still in works in the building that fit the description. When we walked in and saw the glisten of the Manhattan skyline from the large window illuminating the apartment and then realized the large window was in fact a sliding door to a private terrace, we were sold!
Oyin Antwi's Brooklyn Apartment | House Tour
Moving in slowly between January and March 2020, COVID hit NYC the week we unpacked our last box and both me and my husband tested positive for the virus. One month later, the piercing fireworks in Brooklyn started, and another month later, the Black Lives Matter protests were largely on the streets right below our building (woosah!). Like many, while in quarantine, our apartment quickly transformed into our wellness center/office/favorite restaurant/refuge overnight. In the kitchen, we created natural drink remedies learned from our West African origins to promote respiratory health and heal from COVID, while also learning to cook some of our favorite meals to celebrate our quarantine birthdays (my big 30th and his 31st).
On the terrace, we worked out to help alleviate the cooped-up feeling of quarantine and to get fresh air after hours seated in Zoom work calls. In our mini "corner office," we designed, built, and launched an app called "Drift – wellness + sleep" to promote mindfulness and healing for our community during this Black Lives Matter movement, while giving proceeds to our black mental health partner organization: Africa's Health Matters. We went downstairs to protest and came upstairs for a stress-relief bath in our bathroom oasis. In our bedroom, we eagerly drew our noise-reducing curtains to help block out the fireworks overnight as we found our moment of rest. Amidst it all, our home was exactly what the doctor prescribed to heal.
Apartment Therapy Survey:
My Style: Classic, minimalist with a twist—both in my personal style and my home style. I like to keep the main articles classic with clean lines and then accessorize with design elements that pop, to strike a conversation.
Inspiration: Nature—I am constantly inspired and in awe of how neutrals and pops of color can live and flourish harmoniously through each season. In our home, I channeled inspiration from West Africa as my husband and I are first-generation West African immigrants (me: Nigeria and him: Ghana), but with a modern touch. This was brought to life through the African-inspired artwork, modern African face mask style decor objects, woven textiles, brass, concrete, woods, and earthy and metallic tones around our apartment, making us feel right at "home"(land), even here in NYC.
Favorite Element: The faces throughout the apartment—I have a thing for faces and seek them out especially when in HomeGoods or marketplaces. You can find faces on vases, objects, and artwork throughout our apartment if you pay close attention. For the triptych Afro-Modern faces artwork in our living/dining area, I was specifically looking for artwork that would tie in the style and colors in our space and luckily came across a custom artist on Etsy who brought it to life. Etsy is always my go-to for that special art touch in a space.
Biggest Challenge: With leadership positions in our careers during the day and entrepreneurial hustles as a cofounder of Via Asha online interior design business with my sister, and a cofounder of Digital Park tech agency and startup studio with my husband and brother-in-law, my biggest challenge in this space was making 550 square feet work for two adults with very dynamic lifestyles. This meant that when decorating our apartment, I had to accommodate enough room for simultaneous quarantine Zoom calls for work and our business dealings, late nights where one of us wanted to sleep and the other needed to work, and ample space to promote productivity, entertainment, and mini self-care moments where possible.
I overcame this challenge by ensuring that almost every-single-item in the apartment was multifunctional: (1) the dining table opens up from a four-seater to a six-seater to accommodate our small feast gatherings, while also serving as a work desk when one of us is using our mini ladder desk "corner office" (2) the bar cart is movable from indoor to our terrace for outdoor gatherings (3) the couch is a sleeper couch for day-naps and overnight stays (4) the coffee table is a storage space for extra pillows and blankets (5) the TV console unit is storage for my design color swatches and my husband's tech gadgets, and (6) there is greenery throughout the space to give us small reminders to nurture them and ourselves throughout the day with moments of oxygen for deep breaths.
Proudest DIY: We all know "closet/prep space" isn't in NYC vocabulary, so I had to DIY our "prep area" with: (1) a matte black modern mid-century full mirror hung on the wall by our closet with a gooseneck LED light makeup mirror suctioned to it (2) plastic shelves I DIYed and hung on the tiny corner between the mirror and our closet to hold my makeup and brushes, and (3) plastic shelf dividers and cubby storage to organize our closet to hold both (I know!) of our clothes and shoes.
Biggest Indulgence: I would definitely say my biggest indulgence was the faux green wall on our terrace; with about 48 boxwood plant mats used, over 200 nails, faux ivy accents, and six hours of labor, we wanted to create a mini jungle-like oasis in the concrete jungle of NYC and it was well worth it! We're still building our plant collection for the terrace and hoping to have it fully filled with plants by end of summer.
Best Advice: Plan each space before you commit! One of the biggest mistakes I've made in the past is trying to decorate an entire apartment simultaneously, which only ended up wasting time and money with having to return items until I got it right. Especially in open-space style homes, take one area/room at a time: I started with areas we would see as soon as you enter the space (our entrance area to living room area to kitchen/dining area), then moved on to areas hidden behind doors (bedroom, bathroom, laundry closet, and coat closet etc.), and finally areas outside the main space (terrace); this allowed me to fully complete each space to our desire and gave me that sense of accomplishment to move on to the next space!
What's your best home secret? My best home secret is decorating my space with what I call "emotional interior design." What that means is I decorate each space keeping in mind what I want to "feel" in that space and what I want others to feel as well. (1) Happy and Proud is what I like to feel for spaces where I gather with others (kitchen, living, and dining), so this means lots of natural light, greenery, elegance, and rich textures that make me feel happy when I enter the space, furnishings and decor that create a bit of drama for conversation with guests, and even smells that promote enlightenment for good vibes, such as oud candles and wood scents. (2) Relaxed is what I like to feel for spaces where I retreat (bathroom, bedroom), so this means a pared-down color palette that promotes a calm and collected feel, soft and lush textures that are soothing, and smells like chamomile or lavender to relieve stress and anxiety.
Thanks Oyin and Jeffery!!