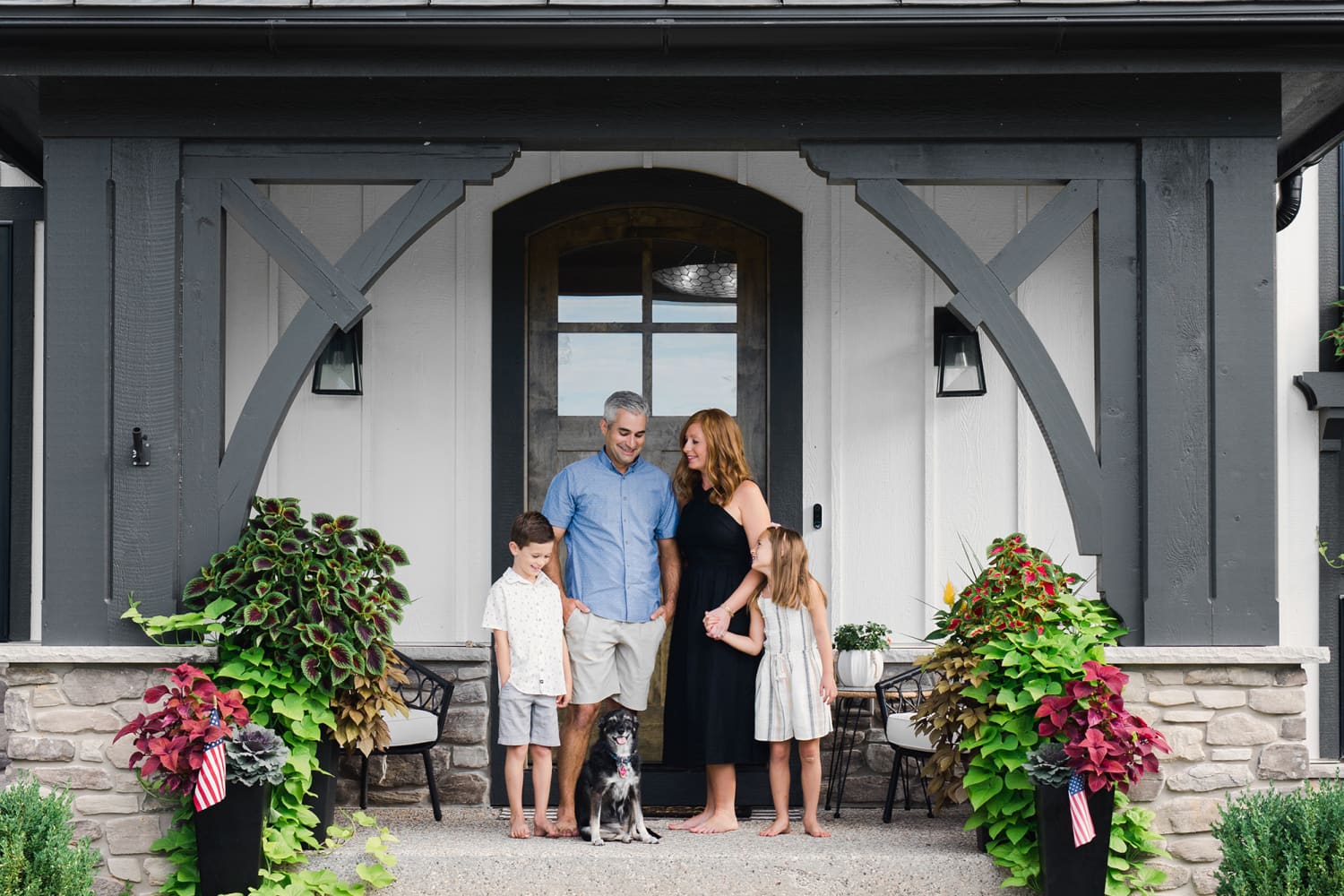 We independently select these products—if you buy from one of our links, we may earn a commission.
Name: Brad and Amy, with twins Oliver and Evelyn
Location: Ada, Michigan
Size: 4,600 square feet
Years lived in: Almost 2 years, owned
This big modern house is the happy place for a family of four (plus a very spoiled rescue dog!). A casual family that loves entertaining friends and family (pre-COVID times), they wanted their home to be a reflection of that. Throughout the house are nods to the people they are and the places they've been.
The couple worked with with architect Brad Douglas and custom builder KLH Custom Homes to design their dream home, which ended up having international aesthetic inspiration. "Our young family lived abroad for a few years, just outside of Munich, Germany. Not only was it a dream come true to be expats in a beautiful country, centrally located in Europe and allowing us to take some amazing weekend getaways, but it also turned us onto German architecture and timeless European home design," explains Amy.
Apartment Therapy Survey:
My Style: Whenever people ask us what our style is, we have a very hard time answering that question. We'd say it's old meets new: timeless features alongside modern elements. We're big fans of chunky, solid, mouldings and custom woodwork, but love crisp clean black and white color combinations and quirky patterns and fixtures mixed in, too. 
Inspiration: Homes across Europe that we snapped photos of during travels or stays, past work from builders and architects we admire (especially KLH and Brad Douglas Design—hence, why they were who we hired!), and Instagram accounts (like Stoffer Home, Studio McGee, House Sprucing, Pure Salt Interiors, Kristin Dion Design, Kate Chipinski)…
Favorite Element: Our main floor is the heart of our home. The open living space is just the right size, not too big to feel sterile and not too small to feel cramped. It consists of a living room, dining area, kitchen, and sunroom that are all connected to one another and sandwiched between our front door/foyer and back entry mudroom area. 
It's the perfect spot to hang out and entertain when indoors, and leads to our two outdoor living spaces—a dining patio and a lower-level lounging patio just a few steps down complete with a serene landscaped yard among the lush wooded lot. The gas firepit seating on our lower level is a fan-favorite for roasting s'mores or drinking craft beers around.
Other favorite elements worth mentioning: Wide exterior roof eaves, window boxes of greenery, interior black doors, and stacked moulding with transom windows, stair runner on custom on-site stained white oak flooring, bench window seat with cushions, and deep drawer storage, two-story bookshelf lining the stair well, cheery laundry room wallpaper and pink cabinetry, antique dresser turned vanity in the main floor half bath, sun room ceiling detail, and peek-a-boo TV storage on the main floor. Many of these elements are also areas of the home that we "splurged" on, as they were important features to us.
Biggest Challenge: Prior home challenges helped us avoid encountering challenges in this home. The beauty of having previously lived in a house that we completely renovated (inside and out, most DIY projects) is that it made us aware of things we liked—or disliked—and definitely wanted in our next home. Designing and building an entirely custom home was our dream. It allowed us the opportunity to plan, plan, and plan some more, and think through every little detail and how it impacts overall aesthetics and most importantly, the way we live. 
Biggest Embarrassment: How long it has taken us to furnish some corners of our house. Waiting for art, the perfect accent table or chair, etc. Did we mention that we like to plan and tend to overthink things until finding a piece that feels "just right"?! So far, it's been worth the wait to hold off for items that fit the image we have in our minds. Curated pieces mean more to us. We feel like the best design takes time. 
Proudest DIY: The large-scale framed engineer prints in our upstairs landing are my (Amy) proudest accomplishment! While stuck at home during a terrible stretch of snow days and cancelled school in 2019, I snapped individual photos of the kids and our dog Emma Pickles. I said something to each one of them that I knew would elicit their most genuine smiles and reactions. I used my iphone and printed them at Kinko's. Frames are from IKEA. The entire project cost less than $80 and is a high statement sight in our home—hard not to smile myself when I see my three favorite faces smiling at me!
Best Advice: Embrace your home and be proud of where you're at, be thankful for what you have, but don't stop thinking about what your ideal home might look like, too. Even if it's not your dream home, it's where you live right now. Make it yours and take pride in it. Learn from, and develop your style along the way. Having lived in a fixer upper that took us 10 years to get to where we wanted it, we were no strangers to working with what we had and making improvements along the way. We learned so much from that process, and loved that home so much! Yet, now we are even more grateful for our new home.