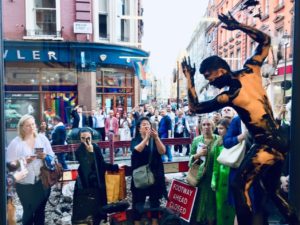 The Game Changers. The Rule Breakers. The Innovators. Discover some of the fantastic emerging talent showcasing their work at The Other Art Fair.
The Other Art Fair exhibitor KV Duong is a London based painter and action artist. Read on to find out what inspires his dynamic artworks, how his practice has changed as a result of lockdown and his piece of advice for fellow artists.
Tell us about who you are and what you do. What is your background? 
I am a London based abstract painter and performance artist with an academic background in structural engineering. My art focuses on personal identity, war migration, sexuality and human relationships.
When I was eight years old growing up in a crammed household in Toronto Canada, I would spend countless hours during the cold winter days drawing to exhaust the abundance of creative energy that I had. I spent my early years in Saigon, young adult life in Toronto and now the past decade in London England. This diverse upbringing has exposed me to a myriad of life experiences that I draw from in my creative process.
If you could describe your work in 3 words, what would they be? 
Autobiographical
Layered
Intense
How did you first get interested in your mediums and what draws you to them specifically?
I work primarily with acrylic because my works are normally large scale and visceral, so a fast-drying medium is important for spontaneity and layering. Texture and materiality are important in my work, so I am constantly trying out new materials and processes. I've used rusted nails, concrete, collage, and have painted on canvas, paper, carbon fibre and even wooden pallets. Recently I am exploring monotypes and other printmaking techniques.
Can you walk us through your process? How do you know when an artwork is finished? 
When I'm starting a new piece, I normally have a theme and narrative in mind but the beauty (and torment) with making abstract art is that the final piece takes on a life of its own during the process. I'm a human sponge, absorbing ideas from seeing exhibitions and responding to what's happening around me. The initial ideas are transformed during the process and I've learned to just roll with it.
It's always a tricky decision to know when something is finished. I usually hang the piece on a wall and 'live' with it for a few days and see how my thoughts develop. Sometimes I get stuck and put the piece away and revisit it a year later. I'm normally working on several pieces at the same time, so this helps with exploring a few ideas simultaneously and not overburden one specific piece to accept all these ideas.
View this post on Instagram

Hello new and dedicated followers. What is happening in this tease photo you ask? . 1) I painted this canvas using my body sometime last year then rolled it up and stored it away. It wasn't until lockdown when I had ideas to do something with it again. . 2) Last weekend I 'walked the canvas' around London, along the Thames river during low tide, dragged it into the mud, sand and water. . 3) I will be sharing a few of these outcome photos in my next posts. . Have you tried walking along the Thames during low tide? It only took me 10 years in London until I did so – give it a try, it's rather intriguing. You can search for the daily low tide timing here: http://tidepredictions.pla.co.uk . I've entered the Thames by Rotherhithe station. What other entrance points are good? . #artcanorg #artinlockdown #abstractexpressionism #experimentalart #londonart #kvduongart #contemporaryart #abstractart #structuralengineering #emergingartist #markmaking #migration #chateauoart #delphianopencall #vietnameseartist #bodypainting #performanceart #lgbtartist #fromstudiolockdown #thamesriver #thames #thamespath
Has being in isolation affected your artwork practice in any way?
Positive: Normally I work on large format canvases. For the Artist Support Pledge during lockdown, I painted on small A3 pieces which gave me a sense of freedom to be more fluid with my technique and composition because they were quicker to finish. I treated these smaller works as study pieces; a few have gone on to become larger works on canvas. Painting on yupo paper for the first time was also a game changer.
Negative: I really missed the social interaction and dialogue with fellow artists and the public (Zoom can only do so much). Getting in person feedback on my work is an important part of my learning and development. I also missed seeing art exhibitions in real life as this is a big part of my education and inspiration.
What is the best advice given to you as an artist?
Learn to trust your instincts. As an artist, I am probably my own worst critic (I think most artists can relate to this). There are so many artistic decisions that run through my head, especially as I'm constantly challenging the narrative and experimenting with different materials and techniques, a lot of uncertainty does creep into my thought. I'm learning to trust my instinct more and do what feels true to myself; the process requires constant refinement.
Shop artwork by KV and other trailblazing artists at The Other Art Fair's Online Studios.
Introducing The Other Art Fair Online Studios, a new online platform offering art lovers around the world access to over 800 Fair artists. The Online Studios will keep our community feeling inspired, engaged, and continue to spread joy through art.