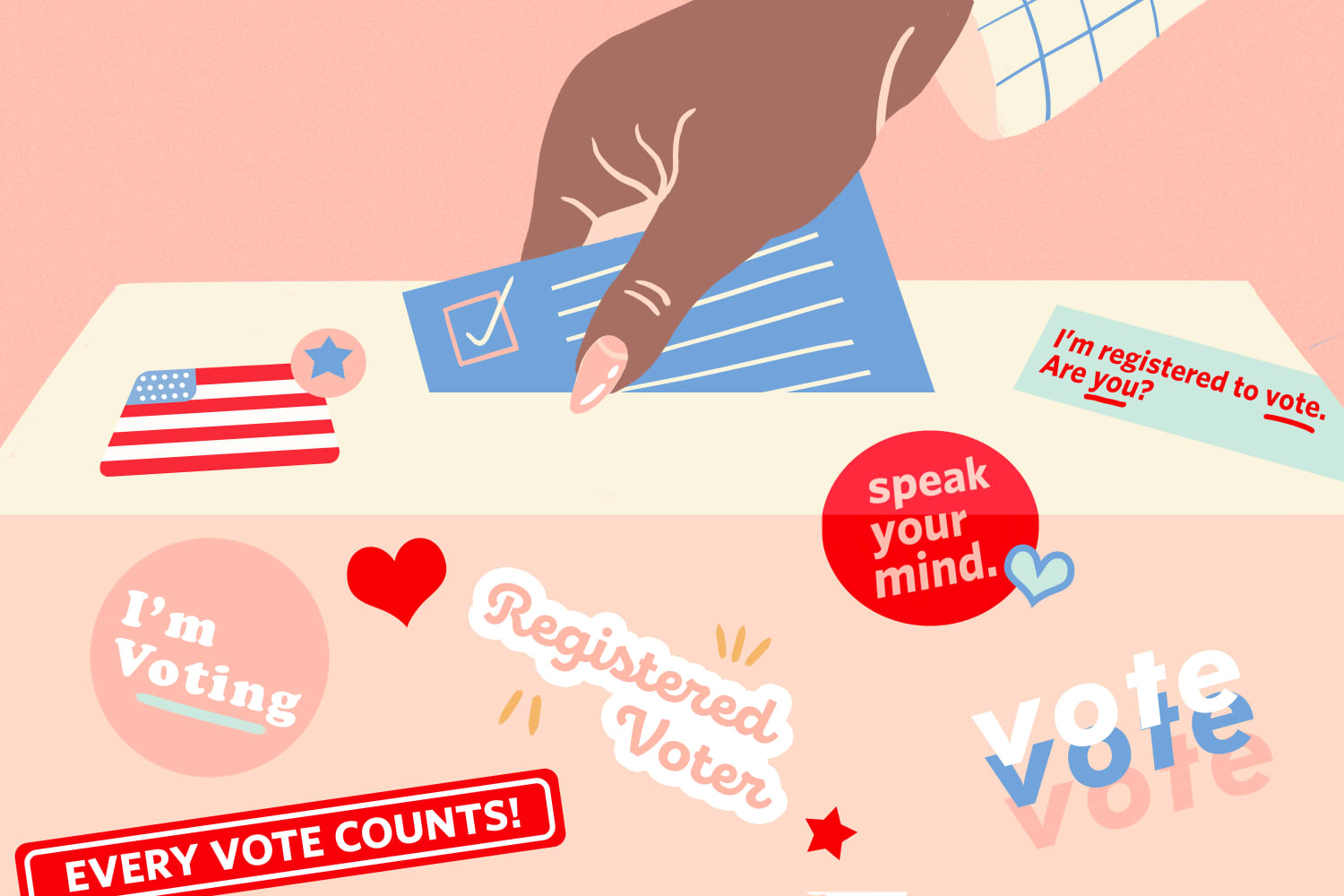 You canvassed, you phone banked, and if you were eligible, you registered to vote and made sure your ballot was signed and postmarked with time to spare. Or maybe you voted early in your state. Now, it's Election Day in the United States, and you might still be looking for ways to get involved in the general election, and support the people who decided to cast their votes in-person on November 3.
If you're noticing longer-than-usual lines in your area, there's a reason for that. Not only has the mandate to keep six feet apart from other voters stretched out the lines, but there are fewer polling places across the country than there were a decade ago. More than 1,600 polling places across the U.S. have been forced to close following the Supreme Court's 2013 decision regarding Shelby County v. Holder, Mother Jones reported last year. That number is compounded by an October report by Vice News that there are 21,000 fewer polling places servicing voters in the 2020 election than there were in 2016. And while some lines may be a result of overall voter enthusiasm being up and a sign of defiance against voter-suppression tactics, the fact remains that it simply shouldn't be so difficult or time-consuming to exercise a right to vote.
There are ways to keep the morale up, however—and many of them don't require you to leave your house. We rounded up seven ways to get out the vote last-minute and to support people at the polls with food, morale, and more. If you do head out to support, remember to brush up on the rules: It's illegal to participate in voter intimidation, and you can report any instances of attempted voter suppression you might see to the nonpartisan Election Protection Hotline (1-866-OUR-VOTE).
Hand out snacks and water to your neighbors in line
If you live near a polling place and feel safe about interacting with neighbors given the pandemic, you can check in with those waiting in line. Bringing individually sealed snack packs and small bottles of water to voters can help people stay in line. As Eater notes, it's illegal to reward or entice voters to pick your candidate; rather, these snacks should be available for whoever in the area wants or needs them. Some cities have also advised that voters bring lawn or folding chairs, so if you have a few extra lying around that you don't mind parting with, you might consider offering them to voters who need them. And no matter what, be sure to follow the CDC's guidelines on distancing, masking, and sanitizing.
Donate to groups bringing food to long lines
If there isn't a line at your local polling place or you want to help without needing to leave your house, you can support groups providing food to lines in need across the country. Pizza to the Polls is raising funds to deliver pizza and food trucks to as many long lines across the country as they can, and Feed the Polls is a joint partnership aiming to bring 50,000 meals to polling places nationwide. There's also Chefs for the Polls, which is powered by José Andrés's nonprofit, World Central Kitchen, and chances are good many local organizations in your area are also devoting some or all of their efforts toward voter support.
Donate to groups boosting morale
Waiting in line might not seem like a strenuous exercise to many, but it can get tiring quickly. That's why groups like Joy to the Polls are working to bring performers to polling locations, and also providing artist-curated playlists. "On election day there will be two-, three-, four-hour lines," Nelini Stamp, a Joy to the Polls organizer, told The Guardian. "So we want there to be an act that comes around and performs for 20 minutes, and gives the voters something to look forward to."
Due to the coronavirus, many in-person Party to the Polls efforts have been paused for the time being, but you can still find a virtual party hosted by an organization you care about. Check their social media to see if they're hosting any digital events, and send them a direct message or get in touch another way to offer any donations or support.
Drive your neighbors to the polls
Not only does a scarcity of polling places increase the likelihood that voters will encounter long lines, but the polling places that are left will often be harder for many people to access. If you feel you can do so safely, check with your neighbors to see if they need a ride to and from your polling place. Or you can donate or volunteer to a group like Rideshare2Vote or the National Federation of the Blind, which has partnered with Lyft to help voters with visual impairments get to the polls, CNBC reported.
Dedicate your time to a candidate or cause you care about
Yep, get out the vote efforts are still going strong, and will be until the polls close. Vote Save America and other organizations are rallying volunteers to dedicate time phone baking in key states, while Vote Riders are providing a chatbot as well as a hotline to help demystify any last-minute questions about voting eligibility, rights, and ID laws. (The replies to this tweet by To All the Boys I've Loved Before writer Jenny Han also feature a lot of great GOTV ideas.)
Boost (vetted, accurate) information on your social media accounts
There's going to be a lot of disinformation floating around social media, but there's also going to be plenty of resources encouraging people to exercise their right to vote. Share graphics that align with your values to social media, whether by reposts, retweets, or amplifying on Instagram Stories. Be sure to double-check any statistics before posting them yourself, and vet the organizations where the information is coming from.
Talk to your friends and family
Text and ask if they've voted, and if they haven't, if they know the measures and down-ballot races that will impact their community over the course of the next few years. These conversations might be uncomfortable, but they matter: Your loved ones will likely trust you more than they will anyone else. You can use this resource published by the New York Times in June if you're unsure about where to start.
If someone in your life tells you they missed their voter registration deadline for any reason, they might still be able to cast a ballot: Some states allow people who are eligible to vote but haven't yet registered to cast a provisional ballot, while other states allow people to participate in same-day voter registration at their polling place. Provisional ballot laws vary from state to state, so be sure to check what rules apply in your state before heading out to the polls and making your voice heard.