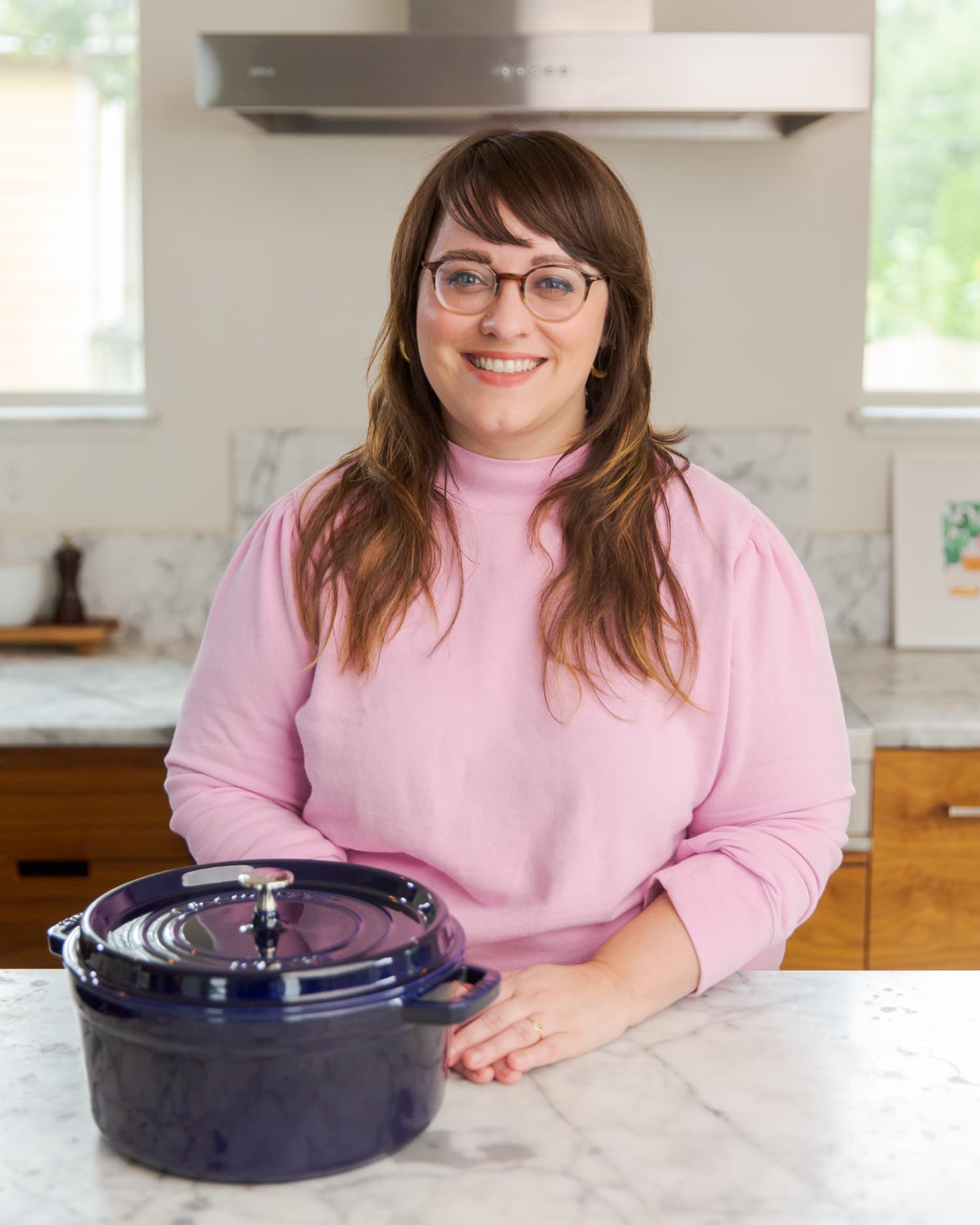 Creating your wedding registry is one of the most fun parts of being engaged. It's an opportunity to build a foundation with your partner and get excited about your new chapter together. But what items should you actually add to your wedding registry? It depends on your needs, wants, and future plans — especially when it comes to setting up a brand new kitchen. It's smart to strategize, both for your own sake and for your guests'.
Kitchn's Editor in Chief Faith Durand, who registered at Crate and Barrel for her own wedding, has lots of helpful registry tips to share. She helped three newly-engaged couples decide what to register for in the kitchen.
How to Build a Wedding Registry With Faith Durand
"My husband and I didn't have a shared household before we got married, so we genuinely learned things about each other and our tastes as we wandered around looking at flatware and china. Understanding what feels good and attractive to your partner is such a fun part of a relationship!"
Deciding between a fancy set of china for entertaining or a set of durable dinnerware for everyday use is a big question for many couples. Instead of deciding on one or the other, Faith recommends splitting the difference.
"I think getting a really simple, timeless dishware set that you can use every day and dress up easily is the way to go," she says. The Bennett Dinnerware Set, a modern update on fine white bone china, is the perfect example. It's sturdy enough for everyday use but can be instantly dressed up with chargers, flowers, or fancy napkins for an elegant table setting. Paired with a set of modern Tour Wine Glasses (which are made of break-, chip-, and scratch-resistant glass, and also happen to be dishwasher-safe), it's all you need for an impromptu dinner party.
"When we registered, almost all of our conversation was about setting up our home for hospitality. I see the wedding reception itself as a new married couple's first act of hospitality as a married unit, and the registry is a way for those who love you to help you continue the party."
Faith has two must-haves every couple should add to their registry. First, "a great all-purpose kitchen workhorse like this Staub Cocotte — you can basically cook almost anything it and I use mine weekly for sure." This is a classic choice that's great for everything from roasting a whole chicken to making winter soups and stews. It's made of enameled cast iron and ensures moist, flavorful results every time. Plus, it just looks beautiful in your kitchen. This cocotte is an item you may not necessarily splurge on for yourself, but you may be pleasantly surprised that someone else is happy to gift it to you!
Secondly, Faith recommends "some simple matching beverage glasses. I like my Duralex Picardie drinking glasses — great for juice or cocktails and they're SUPER durable. Even my kids use them now." They're classic enough for a formal dinner, yet casual enough for everyday use. And, as Faith said, you'll use them for years.
"Think long-term. I believe in high-quality things that will last to your tenth anniversary (and beyond)! It's such a pleasure to live every day with the gifts people so generously gave us when we got married. It lends happy memories and continuity to the everyday things of our lives."
Don't be shy about including home decor or anything related to any of your hobbies in your registry! Not only will it give it a little personality, but it's also a good way to include a range of price points on your registry so guests can find items that work for them.
Faith's top pick for a modern planter is the Arcaydia Planter from Crate and Barrel — a simple but elegant way to add warmth and greenery to any room. But it can't hurt to include all of your favorite planters (or baking gadgets, mixology tools, etc.). When it comes to registries, being a maximalist can actually be a good thing!
Crate and Barrel is the ultimate destination for creating a wedding registry. They make it easy — and, most importantly, fun! — to register for the timeless pieces you'll use forever. These special items will last you for years to come, into your happily ever after.