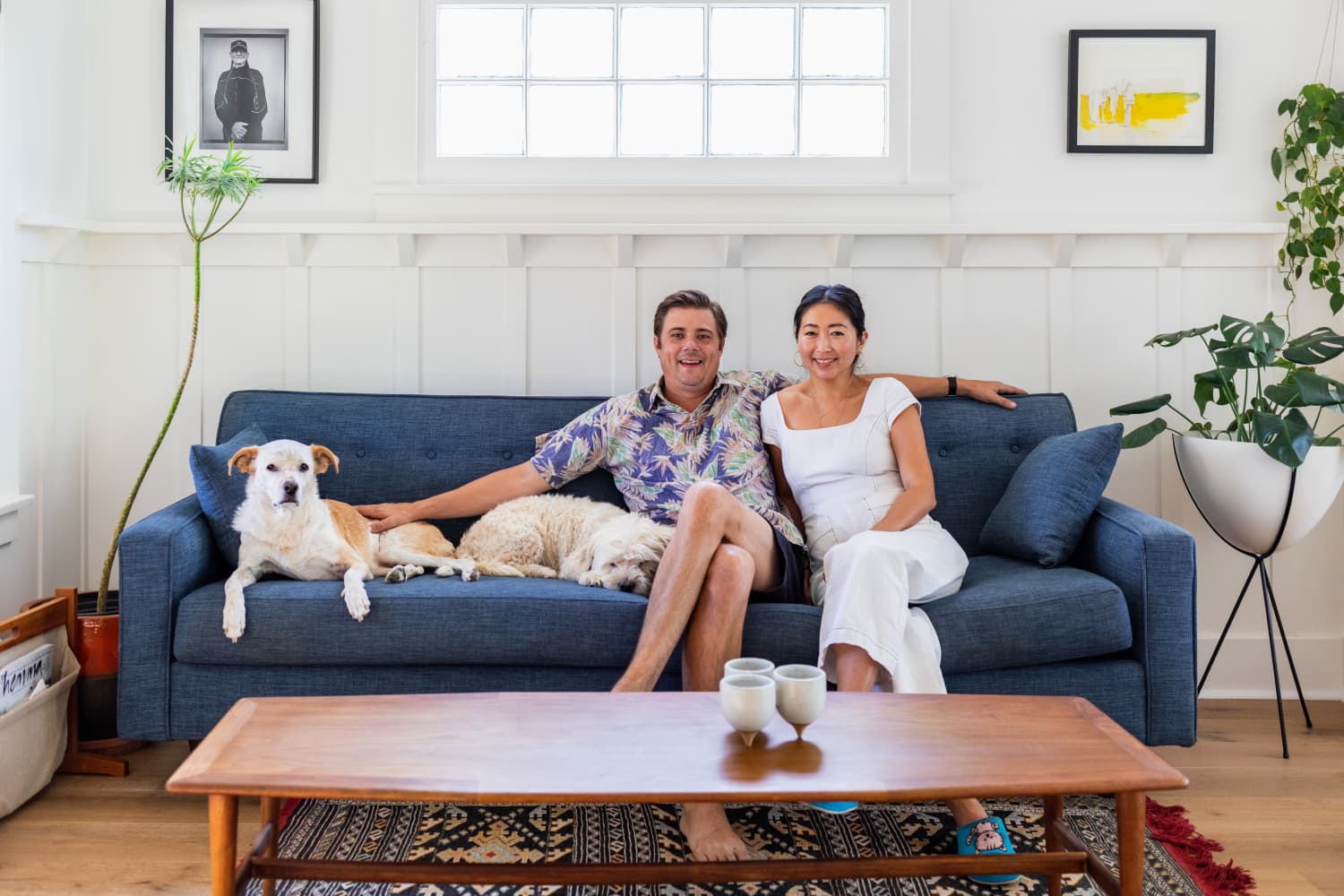 We independently select these products—if you buy from one of our links, we may earn a commission.
Name: Victoria Cho (designer and founder of Metalepsis) with partner Ryan N. and their two dogs Bobby and Ruby
Location: Northeast of Los Angeles , California
Size: 980 square feet 
Type of Home: Craftsman / California bungalow built in 1912
Years lived in: 6 months, owned
I found our small Craftsman house in September of last year. It is in the Northeast area of LA, in the foothills of Mount Washington, an area I had been eyeing for a few years. As a small 1920s bungalow, it contained a lot of the original details and floors. But of course, the house was VERY dated, and not necessarily well taken care of.  In November/December of 2019 we started the renovation process. I spent all of my free time outside of work on the house design and space layout. There were endless nights of researching, reviewing bids, and placing orders for finishes, hardware, etc. This was the first time I was this intimately involved in the design of my home.
We were very lucky with the timing and the house was ready for move-in by mid March this year. Most of the interior spaces are pretty much finished and furnished six months into quarantine! Our new house has definitely been a blessing and now we spend most of our weekends working on the landscaping of the front and backyard, which is the last phase of the house renovation.
I'm a child of first-generation Korean immigrants to Argentina and then to the United States. I was born in South Korea, and when I was six my family and I moved to Buenos Aires, Argentina. Though there have been many hardships that came with moving to different countries, learning a new language and assimilating to a new culture, now in retrospect I feel that I have been fortunate to have such a culturally diverse upbringing. I left Buenos Aires to attend architecture school at the University of Washington and UC Berkeley. Through years of architectural education I found my passion for rigorous design and processes, whether it is a large building or a small piece of jewelry.
After practicing architecture in Seattle, Paris, and New York, I'm currently exploring design possibilities with my jewelry and small art objects line called Metalepsis, as well as clothing and interior spaces. For the past eight years, I've been loving Los Angeles as my home, which is where I live with my partner and our two dogs.
Apartment Therapy Survey:
My Style: I'm a big fan of mid-century design, both Californian and European mid-century modernism. I'm also a strong believer of Wabi-Sabi. I love how beauty and balance can be created from imperfections in aging, patina, and sediments.    
Inspiration: Previously, when I worked as an architectural designer, I learned a lot about furniture design. And over time I created a list of "must-have" items in my mind, and have started to collect some of those pieces. Southern California is always a huge inspiration. Both our culture and landscapes, as well as California Modernism. This is where Eames, Neutra, Schindler, and Lautner built some of the most iconic Modernist buildings!
Favorite Element: I love the living room built-in wainscoting, cabinets, and old picture rails. I'm really happy that we're able to  salvage some of the original details that are unique from that era. I also love all the art pieces I've collected over time from friends and artists.
Biggest Challenge: There are two houses on the property. The main craftsman house was built in 1912, and the second small house addition is from the 1920s.There was a small budget that needed to account for the renovation of both houses on the property in a fairly short amount of time. Along the process of renovation, some things had to be let go, and compromised. When you work with time and budget constraints, you have to be creative in how you use materials and finishes that are mostly readily available.
Biggest Indulgence: The cast-iron clawfoot bath tub. Not necessarily because it was the most expensive item in the house, but because it took some time to find an old one that I liked, and have it refurbished. Then, we had to reinforce the floors so it would hold up the weight of it, and finally making it work in such a small bathroom layout was a challenge but it was definitely worth it!
Is there something unique about your home or the way you use it? Our fireplace is a faux fireplace! The actual fireplace location is original and we found the old chimney, but at some point in time, the previous home owners decided to close it up. I think it's still nice to have as a centerpiece in the living room to enjoy.
What are your favorite products you have bought for your home and why? I love our light fixtures. They do an amazing job, not just for the obvious purpose of lighting the room, but also to define each space with a subtle focal point.
Finally, what's your absolute best home secret or decorating advice? With our home renovation, I learned that there are many amazing local, family-owned small businesses which are great and affordable sources for the project, especially since our budget was very tight. I've visited fancy, upper-tier showrooms for tiles, and flooring, but sometimes you can find readily-available materials at affordable prices that will still accomplish what you're looking for. It's definitely a plus to have your sources local, where you may be able to go and pick up the materials, or easily re-order them if you find that you didn't order enough of them!