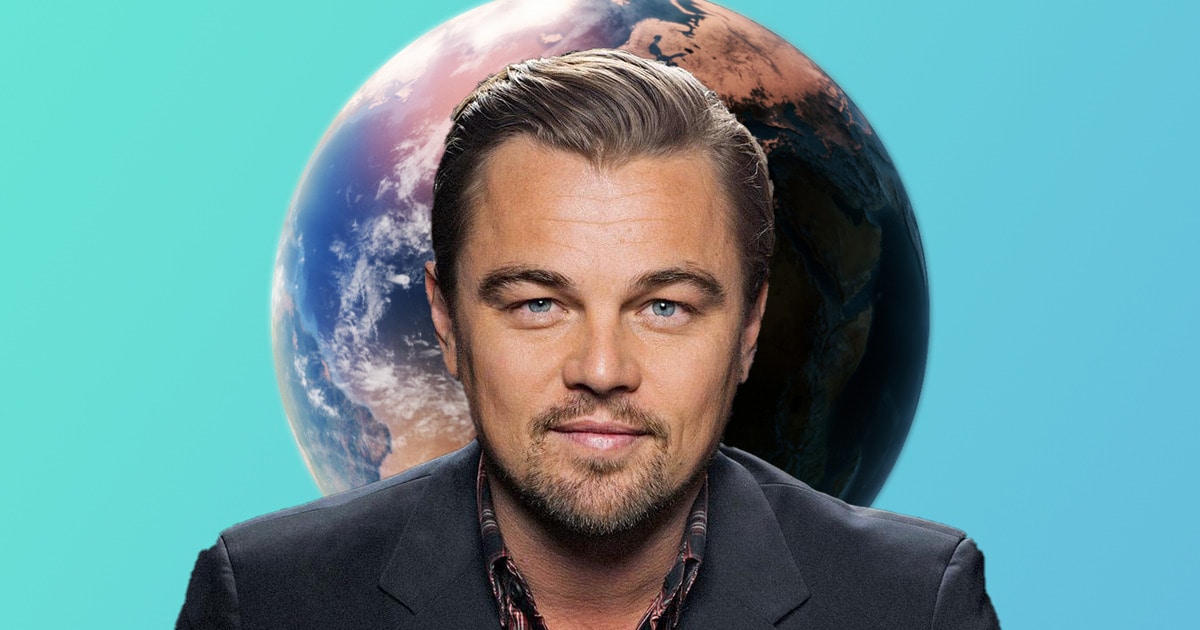 There's more than one reason to love Leonardo DiCaprio—from his exceptional career as an actor to his life-changing work as a very influential environmentalist, he's captured the attention of millions worldwide. We've put together the environmental highlights of his career—let's call it the "Leo List." From his multiple documentaries to generous investments in vegan companies, here are seven ways Leo DiCaprio is working to save the planet. 
1 He produces documentaries that change perspectives on a massive scale
Ever heard of Cowspiracy? It was a groundbreaking documentary that shook the world back in 2014 by addressing the issues of animal agriculture and its devastating impact on the planet. And yes, DiCaprio was an executive producer. He also executive-produced The 11th Hour (2007) and Before the Flood (2016), the latter of which he narrated as well. 
2 He's not afraid to use his platform to bring up big issues
Before Joaquin Phoenix received his standing ovation for addressing the dairy industry in 2019, DiCaprio used his first Best Actor acceptance speech to discuss the climate crisis in 2016. It was all too appropriate that he was accepting the Oscar for his role in The Revenant, which encapsulates both the beauty and power of Mother Nature and the great outdoors. 
In between grand speeches on national television, DiCaprio takes to his social media to talk about pressing issues that affect our planet and those who inhabit it. In 2012, he publicly denounced poaching on Facebook. One look at his Instagram, and you may mistake it for the World Wildlife account. He also harnesses his platforms (and 48 million Twitter followers) to promote the vegan and earth-friendly companies he invests in. Twitter trolls have no chance against DiCaprio's massive influence. 
3 He's spreading the message to the adults of tomorrow
Those old enough to watch Titanic when it first premiered fell in love with DiCaprio at the start, but he's still reaching audiences that have no idea what it's like to watch Jack slip away into the ocean on the big screen ("I'll never let go!" Sorry, we couldn't help it). In 2009, he received the Big Green Help award at the Nickelodeon Kids' Choice Awards for his consistent environmental work. He took the opportunity then to instill a sense of environmental responsibility in his young audience. 
4 He's investing in vegan business
Beyond giving to a number of earth-saving charities and non-profit organizations, DiCaprio invests his wealth in the plant-based companies that are pioneering a more sustainable future. He's diversified his investments among Beyond Meat, Hippeas, Califia Farms, and others. Just recently in 2021, he joined the Sustainability & Health Advisory Council of Perfect Day—a food tech startup that has created the world's first animal-free dairy ice cream. We're low-key mimicking his investment strategies when these companies go public (FYI, Beyond Meat already has). 
5 He's United Nations-Approved
In 2017, DiCaprio was named a United Nations Messenger of Peace with a special focus on climate change. He accepted the position at the UN Climate Summit and addressed the crowd: "I feel a moral obligation to speak out at this key moment in human history—it is a moment for action. How we respond to the climate crisis in the coming years will likely determine the fate of humanity and our planet." Preach, Leo, preach. 
6 He started his own foundation to save the planet and animals
Before the Oscar glory and UN stamp of approval, DiCaprio set out on his own to change the world. In 1998, he established the Leonardo DiCaprio Foundation—now re:wild—to protect the wild species who inhabit the Earth. The foundation's scope is global, ranging from protecting elephants in Africa to safeguarding several natural California habitats. Each species plays a role in the delicate balance of this planet. By preserving these animals and their lands, we are preserving our home. 
7 He's into solar
Solar is no longer the energy of the future—it's the energy we need right now. In 2018, DiCaprio partnered with Kingo—an off-the-grid solar company—to literally give power to the people who need it most. The business sets up solar units in remote places where electricity is scarce or nonexistent. This work greatly enhances the quality of life for these communities but does so in a way that won't pollute the planet. It's victories like these that give us hope for the future. DiCaprio's work proves that we can still enjoy modern conveniences such as light at 2am or juicy, beefy burgers—we just need to seek out smart solutions that fulfill our wants without wrecking the planet.  
For more about Leonardo DiCaprio, read: 
Leonardo DiCaprio Is Proud to Invest in Vegan Meat
Leonardo DiCaprio Just Invested In Cell-Based Meat
Leonardo DiCaprio Joins Startup Perfect Day
LAST CHANCE! Get the Holiday Food Issue of VegNews FREE when you subscribe by November 10.
Subscribe
LAST CHANCE! Get the Holiday Food Issue of VegNews FREE when you subscribe by November 10.
Subscribe