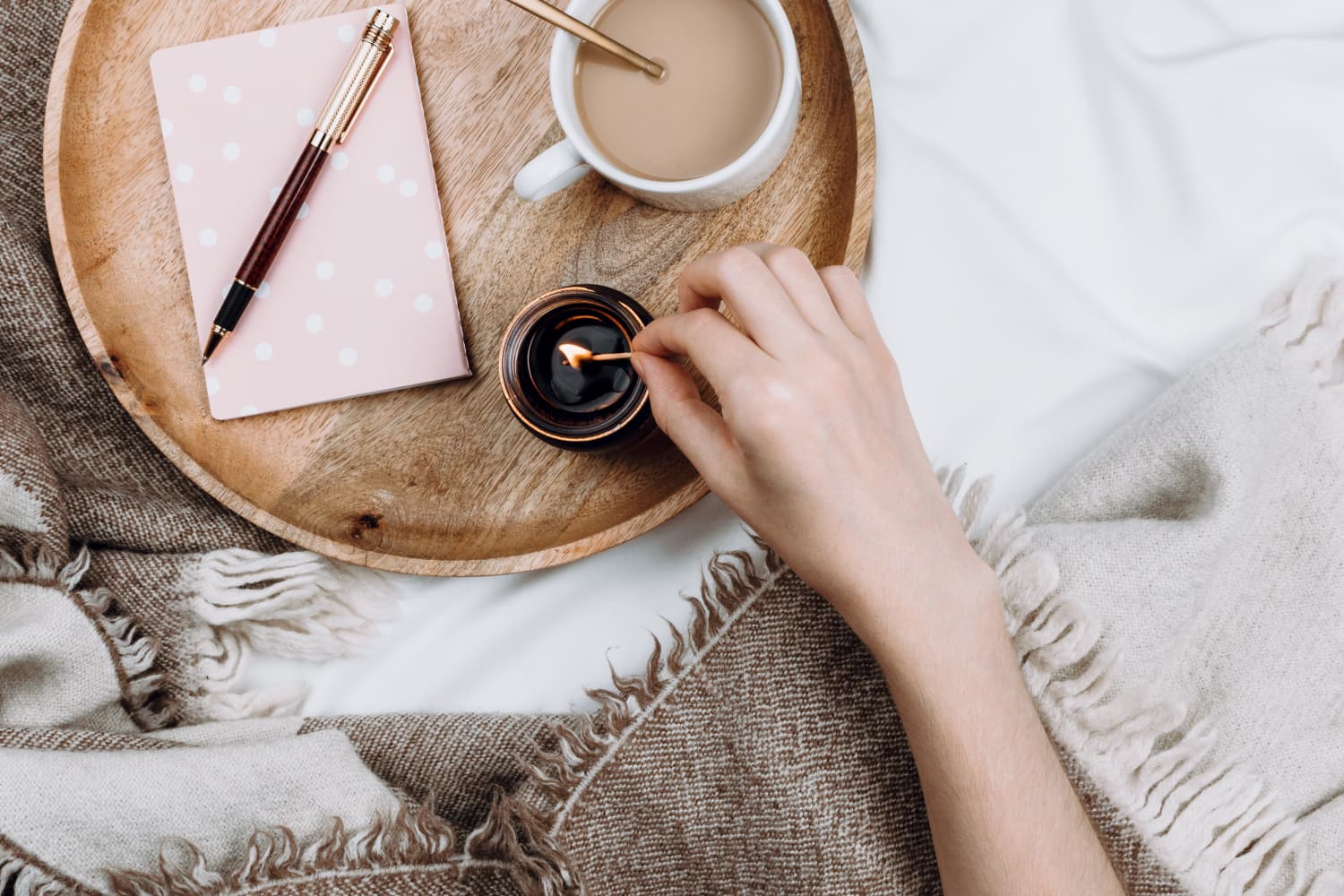 To quote a certain TV show, winter is coming… and for the majority of people, it means spending more time at home (even more than usual, that is). And winter 2020 is looking likely to be more difficult than most given the ongoing pandemic and its social-distancing guidelines. A lot of beloved winter activities—from ice skating to holiday markets—will be riskier than usual, and many warm-weather outdoor activities like hanging out in the park with your friends or grabbing dinner at an al fresco spot might be on hold for the time being. Add the onset of seasonal depression, and it's understandable that the next few months at home or working frontline jobs might feel harder than anticipated. 
Knowing this can help you prepare in advance for ways to take care of yourself in your off-time—and being homebound doesn't mean sitting on your couch doing nothing (unless you want to!) In advance of shorter days and colder weather, Apartment Therapy wants to help you make the most of your energy so you're prepped and cozy.
If you're searching for ways to fill your time for the next few months, we have a few suggestions that might help. 
Lean into your inner horror fanatic
If there's one thing to be said about autumn, it marks the beginning of spooky season. The early sundown can be an opportunity to start streaming your favorite suspense-filled classics both before and after Oct. 31, should you be so inclined. "Hocus Pocus"? A timeless favorite. "Midsommar" in autumn? Why not! Research also shows that horror films are a great anxiety reliever because we can vicariously live through our fears in a controlled environment. As strange as it sounds, there is something therapeutic about watching someone else go through a stressful situation like being chased through a cornfield and know that it's entirely fictional. 
Not that anyone needs an excuse to light up a good candle, but it just makes sense to stock up on all of your favorite scents now that it's dark out. There's something about a warm and flickering candle that makes a home more personal. Need more proof? Science says that odor in an environment can be a huge game-changer (and who am I to argue with the experts?). As it turns out, candle lighting may be more intricate than you may have originally thought; here is a guide on how to maximize your favorite candles for the best burn possible.
And since it's fall, your favorite stories will be stocking up on all the woodsy and spicy scents. Think cottagecore, but in your very own home. If there's ever a time to go all out on making your living room smell like the inside of a pumpkin spice latte, it's definitely now. 
Find small ways to spruce up your space
Experiment with at-home workouts.
If you're an avid outdoor runner but don't want to run in the dark, there's virtually unlimited alternatives to be streamed nowadays. More time at home could mean discovering a newfound love for Pilates or bodyweight strength training. Now's the time to try workout that you haven't yet! Thanks to technology, practically every workout combo is now available for you to try your hands at. Boxing? Yup, there's a guide for that. Rowing? Here's a makeshift tutorial. 
And you don't need me to tell you about the benefits of getting your sweat on, especially if you live in a colder climate where a midday walk means bundling up. Even so, taking a break to stretch your legs at lunchtime can boost your mood in a major way — just be sure to tell your coworkers you're stepping out for some of that crisp fall air before you do. 
'Tis the season for baking
Whether you're an oven novice or a pastry expert, baking is definitely a skill that can be improved with time and practice. And, in my humble opinion, it can be more rewarding than regular cooking. For example, I am finally tackling my personal Mount Everest that is the perfect Chocolate Lava Cake with just the right liquid consistency. 
With the holidays around the corner, there's no better time to sharpen your baking skills than pursuing through new-to-you, hearty recipes and seeing what catches your eye (or stomach). And if you mess up on something? Just the act of baking is enough to be a mood changer—there's just something about the satisfaction of completing a small task, like baking. If you happen to get some delicious treats out of it, all the better! 
Foster animals for company
Love animals, but don't have the capacity to adopt one permanently? Fair! Being a pet owner is a huge responsibility that not everyone is ready for. But if you're desperately craving a furry companion, fostering a dog or cat is a great option that keeps them out of the shelter system. Having a pet has also been proven to lower human stress levels, which means this is a win for everyone involved. 
Just remember that fostering is still a huge responsibility and requires extreme care and time (and it can be hard to give up a creature that you've invested so much energy into). Every animal will come with their own set of needs, so make sure you're equipped to handle them by double checking space requirements, dietary needs, and how to pet-proof your home. Still, lots of people find it rewarding to be able to help transition a furry friend for adoption. An added bonus? You will almost certainly get lots of cuddles out of your good deed. 
If you've ever harbored a secret desire to learn a skill, whether that be brushing up on another language or learning TikTok dances, your time is now. It doesn't matter what it is, what's important is that you use your downtime to indulge in something fun that's just for you. 
Experts have frequently said that hobbies make people happier and less likely to burn out at work (chalk it up to the life-changing magic of experiencing joy outside of an otherwise identity-defining job). Set a calendar reminder to take virtual guitar lessons, buy that massive puzzle, or simply take some time to do whatever it is your heart desires that night. If no one's told you this today, you deserve to enjoy your nights off.