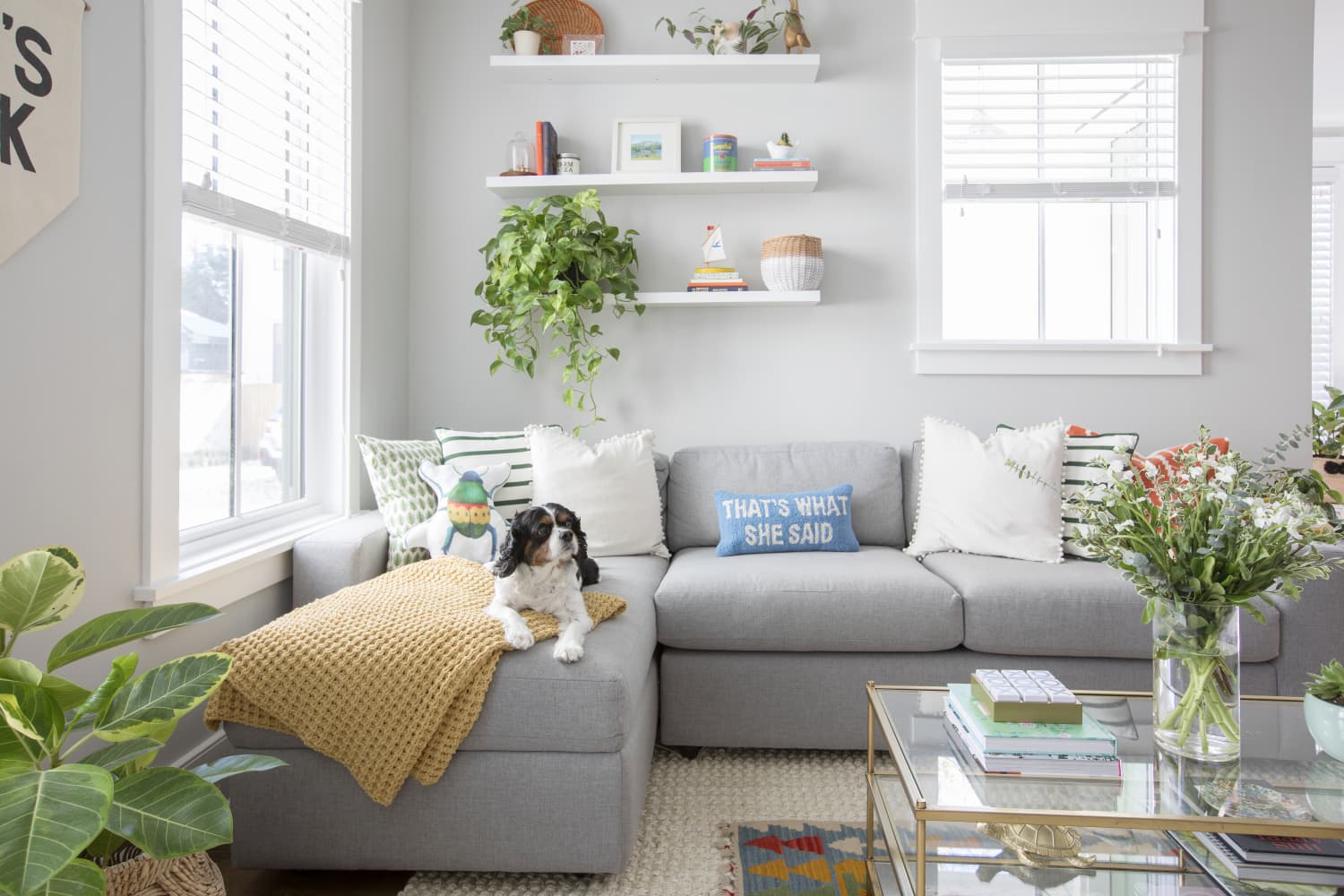 When making updates to a home, no one wants to focus on minor details. It's much more exciting, at least in the beginning, to embrace in-your-face changes like knocking out a wall, choosing new floors, or painting walls. It's only after those big moves have been made that their smaller counterparts come into focus. And if you're not careful, that supporting cast can steal all the attention from a space's leading stars. 
"The great Charles Eames once said, 'the details are not the details, they make the design,'" designer Kate Lester says. "Truer words have never been spoken. Those little details are what elevate a space from good to exceptional."
Taking on an update is a big-picture task, but once your project begins to take shape, don't forget to notice the odds and ends that will make it all look complete. We asked three designers—Lester, Ann Carr, and Lauren Meichtry—for their thoughts on the small things that take away from an update's appeal, no matter how good the larger view looks. These are the six issues that bug them the most, including how to fix them. 
Too-short window treatments
Here's the truth: Curtains are complicated. Choosing from an endless array of colors, patterns, and treatments can be tough, so simply hanging the curtains feels like the most straightforward step. But, as it turns out, there's a right way to hang window treatments—and the wrong way is easy to spot. 
"More often than not, people hang the rod right above the window," Lester says. "This actually makes the room feel shorter and more squat, so if you are doing this, stop it immediately!"
To get this detail right, hang the curtain rod a few inches above the window, closer to the ceiling. "We usually split the distance 50/50 unless the ceilings are uber-high," Lester continues. "This will give the illusion that the windows are bigger and the room is larger."
New floors—or newly refinished floors—can transform a room. But as much as they're worth showing off, a rug that's too tiny for the rest of your furniture isn't the way to do it. "An improperly sized rug actually makes a space look smaller and throws off the balance of the whole room," Lester says. 
An ideal rug, Lester notes, is one that properly frames your furniture by making sure that all of the pieces can sit comfortably on it with a few inches to spare. "If this isn't doable within your budget, then consider layering rugs," she says. "Buy a neutral, larger rug that is the appropriate size to ground your space, and then layer a smaller, more vibrant rug on top."
Same-old cabinet hardware
A renovated kitchen can be costly, so it's tempting to reuse materials as much as possible. And while there's absolutely nothing wrong with painting original cabinets for a change, Lester doesn't recommend holding on to the same hardware. "This is such an easy and inexpensive fix, so it's the worst when I see that people have renovated a kitchen or bathroom and kept the same boring pulls or knobs," she says.
Instead of keeping standard four-inch hardware in a refreshed kitchen, Lester recommends searching for replacements that fit your budget and renewed style. If you saved on renovation costs in other ways, then new hardware can create a more expensive finish—and knobs and pulls are easy to find online for less. "Vendors like CB2, Rejuvenation, and Amazon have so many great options that will be the same size as your existing holes so the swap out is super easy," Lester notes.
You're not limited just to hardware that fits the existing holes, either. If you want to change the size or type of hardware—say, pulls instead of knobs, or vice versa—it's easy to fill the existing holes with stainable wood putty. Once dry, sand smooth and stain or paint; then, measure and mark where your new holes should be before drilling.
Sure, it gets dark at night, and lighting helps with that. But only seeing lighting for the need it solves, rather than as a mix of form and function, can ultimately make a room feel disjointed. "Lighting is often looked upon as an optional accessory," Carr says. That's why refreshed rooms sometimes keep their original fixtures, or overhead lights are deemed as all that's necessary. But Carr recommends seeing lighting as a way to enhance a space, not just make it livable. 
"An interesting textural lamp can not only be a piece of needed furniture, but the light will cast a particular mood," Carr says. "Keep the experience that you want to create in mind when designing your space."
Make it happen by changing out original fixtures for up-to-date options that match your current aesthetic, and add different light sources throughout. For instance, a floor lamp next to a side chair can morph into an easy reading nook, just as sconces can add a cozy ambiance after sunset. "It can transform the space in shape and size," Carr adds.
You can get a high-end look without being a skilled electrician by opting for wired sconces and plug-in pendants, which need on be installed within reach of an outlet.
Given how many beautiful couches are on the market these days, it's understandable that an upgrade could revolve around a coveted couch. But Meichtry says that leads to a common problem. 
"One big mistake people make when it comes to the small details is spending so much on the big-ticket items and not leaving a good enough budget for the smaller things," she says. "So, you splurged on your new couch and now you have no pillows on it and your side tables are empty. While having a nice couch is great and all, if you can't finish the room because you overspent on the couch, it isn't going to come together."
To balance the spotlight your couch deserves with the comfortable feeling you were probably after in the first place, Meichtry recommends setting aside funds for accessories. This can be done with a few stacked books on a coffee table, a gallery wall above a console, or various plants for a corner. 
"As for pillows, I recommend spending less on larger, solid pillows that will go in the back corner of the couch and splurging on the two pillows that will be front and center," she adds.
You can also save big bucks by DIYing accessories—think: dying your own pillow covers, spray painting thrifted vases or candlesticks, or making your own expensive-looking planter.
It might seem like buying a room's furniture all from the same store just makes so much sense. After all, if everything is available, then why not make the most of it? The downside of this efficient thinking is this: As soon as every piece is in its place, it all looks like an ad for the store. That's why Meichtry advises against it. 
"If you got a little carried away and your living room looks like it's straight out of a furniture catalog, try choosing one item at a time that you're willing to swap out," she says. "A great way to do this is to take photos and post the items for sale online before you buy something new.  Then you'll have some money in your pocket to put toward the replacement and you're not putting anything to waste. Win-win!"
She advises replacing smaller pieces, like matching side tables, to automatically make the room look more personalized. That being said, make sure that your chosen materials and finishes all look sharp no matter how you arrange them. "The small details are often the things people notice the most," Meichtry says. "You can dress up an IKEA couch with beautiful pillows and no one will be the wiser. But putting cheap-looking pillows on an expensive couch won't work so well. Be realistic about your purchases."